Gift Cards Make the Perfect Gift for AnyBODY!
We have custom amount Gift Cards available at the front desk and online*! Just click the big red button to go to our online store and select GIFT CARDS, or call to schedule a pickup time!
SAVE $$$ WHEN YOU BUY A MASSAGE SERIES PACKAGE
WE NOW OFFER 3 AND 6 PACK SERIES FOR SWEDISH, DEEP TISSUE, AND REFLEXOLOGY! SAVE 15-20% ON EACH SESSION WHEN YOU PREPAY! CALL FOR DETAILS!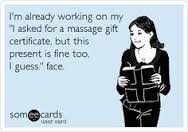 http://www.wcpo.com/money/consumer/dont-waste-your-money/popular-salon-closes-what-about-gift-cards
Are you stuck with gift cards from the local day spa closing?
Bring in proof of the balance remaining and we will happily honor them***
*** Your cost will be 50% of the regular price and is due upon checkout. The other 50% will be deducted from the remaining gift card value, which can be found at www.getmybalance.com. We will hold your gift card on file and you may continue to apply up to 50% of the value remaining toward your service until the value reaches zero. We reserve the right to reject any certificate we feel is altered in anyway. Awaking Therapeutics is in no way affiliated with any other businesses. For use with massage services only.
Regarding Awaking Therapeutics Gift Certificate Policy:
We request the courtesy of a 24-hour cancelation notice of an appointment. Your massage session is reserved especially for you.
NO CALL/NO SHOWS scheduled with gift certificates will be considered redeemed for service value.
*Ky. Rev. Stat. §367.890
A gift card expiration date shall not be less than one year from the date of issuance. If no expiration date is printed on the front or back of the card, it is presumed valid until it is redeemed.
Ky. Rev. Stat. §367.890(3)
No person or entity shall charge service charges or fees relative to that gift card, including dormancy fees, latency fees, or administrative fees, that have the effect of reducing the total amount for which the holder of the gift card may redeem the gift card until the expiration date on the card has expired.